Small woman 2012 underwear trends and new conference will be grand opening on November 6, 2011! Welcome new and old customers come tasting!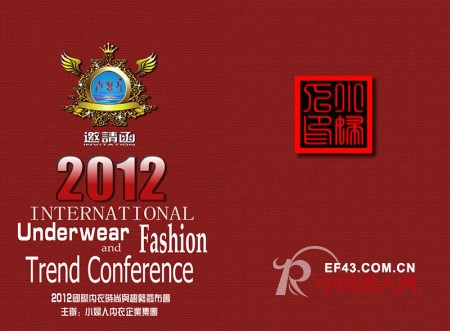 In the prehistoric era, when the ancient ancestors wrapped their leaves, the three leaves that had never thought of the female ancestors became the source of fashion after thousands of years. Underwear - a shy term for reply Evolved into today's world of women's favorite fashion favorite.
"颔 first laugh Bai Mei life, E from fish consistent scared butterflies; eyes no color outside the city, approached the wide-flying people." The number of women female peacock Xuan window deep boudoir show confidence; how many women addicted to the new wild Sui Tang style elegance as the Golden Age beauty; the number of female Silk Road rain butterflies drunk Lanting full Eastern charm; how many female peony Snow gentility deep rouge; many women West Lake Xiaoyu Lan Xin Hui Doucheng Love Romance; underwear - has not only synonymous with fashion, but also to protect the health of women dedicated.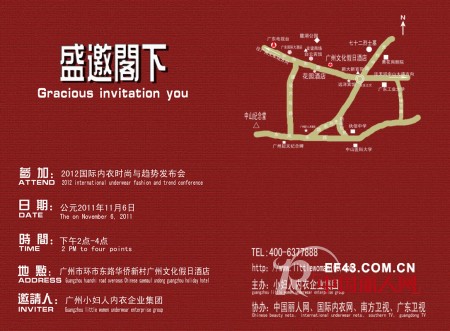 Today, we gather here to show the cultural context and trend of underwear. Graceful and graceful also Man Mianqian street, style thousands of similar contact pink Dai Cumei; a network deep female out of a feminine and elegant moon shadow with asymptotic court Wintour Emerald Palace E. Yinggeyan dance hand in hand with the soothing sounds of our fashion carols, Shen Yu landed geese, closed months of shame we let the earth shocking heaven.
"Fashion, sexy, environmental protection, considerate", enjoy the spring at the West Lake, wind help tender willow, fine number of gold; daughter is difficult to lock her daughter Road, quietly moving Zheng decorated Yuzhu. Sliver sliver, but drunk little woman, apricot Xiuchun; huqin shame and spring, but scared huaxu no place to seek. When the spring March mountain flowers rotten, we wish the beautiful lit the wilderness; when the song of the Mid-summer Red Sun Forest, we wish the beautiful ignite passion; when the late autumn to celebrate the wine, we wish the beautiful harvest happiness; , We wish the beautiful snow melt; snow - beautiful, such as the princess, came from ancient times, came from the Tang Dynasty, come from Milan, came from the cover of Time magazine, walked through this small "T" Taiwan Go to the world again.
Hosted by: Guangzhou Little Women's Underwear Co., Ltd.
Contractors: Guangdong Satellite TV, South Satellite TV, Pearl Film Group
Co-organizers: China Beauty Network , International Underwear Network, Hua Yi Network, China Women's Network, Women's Fashion Network
Location: Holiday Inn Guangzhou Huanshi East Road, Guangzhou Cultural Sapphire Performing Arts Hall
Time: November 6, 2011
Crystal Picture Frame, Glass Photo Frame, Promotional Photo Frame
Fenghua Jade Motor Co., Ltd. , http://www.gosgift.com