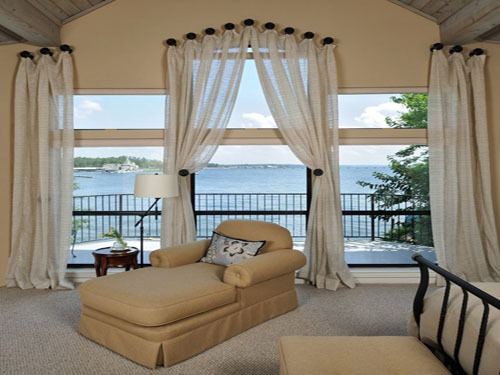 PART A: Curtains of pure linen curtains and linens give people a smooth and natural visual experience. With the window, it is more durable like a gauze. In a naturalistic home, it lets down the window and gives a natural feeling of purity. .

The linen fabric gives a natural cool sensation, and it maintains a purely natural effect on the shape and is more capable of compounding its characteristics. The toughness of linen makes this curtain durable and dry clean.

PART B: The pure cotton pleated curtain cotton fabric has a strong air permeability, so as a soft cloth fabric in the living room, it can make people feel light and cool in spring and summer. With simple colors, you can match various color elements in your home.

Originally, cotton material is relatively easy to wrinkle. Using pleated cotton, it can hide wrinkles with its own fold effect. In addition, pure cotton curtains are more suitable for the spring and summer season, whether it is light transmission or lightness.

PART C: Elegant Silk Curtains Silk fabrics are also common fabrics for the spring and summer seasons. They are soft, comfortable, light and breathable and are ideally suited as curtains for decorating the curtains in spring and summer. Delicate and elegant prints highlight the aesthetic effect.

On white silk curtains, vintage prints make the overall look more elegant. The silk fabric originally had a good light transmission effect, allowing the interior to appear bright and light.

PART D: The pattern of wood carving blended curtains, like the patterns printed on wooden panels, fades onto the curtains, adding a touch of pure natural feeling to the living room. The blend of linen and cotton gives this curtain a light, soft look that is more in tune with the ambience of the home.

55% flax plus 45% cotton gives this curtain a combination of two materials. The linen colour and the cotton texture make this curtain that looks rough and soft and comfortable, adding to the exquisite warmth of the home.

PART E: hollow curtain blended curtain cotton and polyester blended curtains, in order to light and beautiful, the effect of hollow, so that the curtains show a beautiful pattern. As delicate as the gauze, giving a light and elegant feel.

White blended curtains, combined with openwork patterns, not only look light and permeable, but also have a beautiful decorative effect on the living room and make the space more artistic.
Sportswear For Men,Men's Tops,Men's Stripe Long Sleeve Shirt,Fashion Men's Tops
zhejiang tianjin import and export co.,ltd. , https://www.tianjintextiles.com